Chew Valley School pupil designs the 2021 Chew Valley 10k T shirt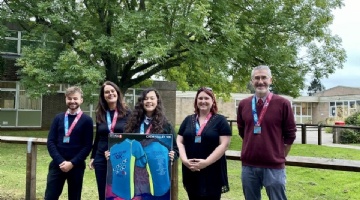 Chew Valley School Year 9 pupil, Bluebell Powell, has won a competition to design a technical t-shirt for this year's Chew Valley 10k and Virtual Chew Valley 10k.
The scaled-down Chew Valley 10k was postponed until 12th September and was sold-out at 300 entries and all entrants received the technical t shirt as part of their entry. The event raised much-needed funds for Chew Valley School Society, Bishop Sutton School Society, Chew Valley-based NICU Support and the Lymphoma Research Trust (www.lymphoma-research-trust.org.uk), in memory of Bishop Sutton resident, Mr Mark Wookey.
Organisers worked with Chew Valley School's Design and Technology department since 2017 to give the opportunity to students to get involved in a real-life design project, from design brief to the finished product.
The main sponsor, Debbie Fortune Estate Agents were very impressed with Bluebell's design - Scott Higgins, Chew Magna's office manager said, "Bluebell's design is really striking, and we like the attention to detail and instructions that Bluebell included in her design, including her chosen colours - she should be very proud of herself. The design also transfers brilliantly to the medal."