National Apprenticeship Week (7-13 February 2022)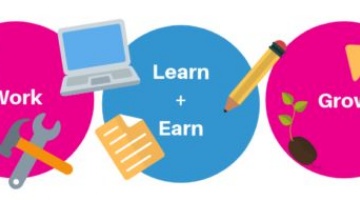 This week is National Apprenticeship Week. From Accountancy, HR Consultant, Business Administration and Facilities/Site Management LSP employees can undertake a wide range of apprentices within the Trust.
The Trust actively encourages learning and career development and there are currently 10 apprentices who are studying alongside their day-to-day duties to achieve qualifications that will develop and support their role in the Trust.
Tom McGreavey is currently working towards a Finance Assistant apprenticeship as part of the LSP Central Finance Team. He assists the LSP Finance team with day-to-day financial processes and provides valuable support to the central team.
Tom said: "I started my apprenticeship in December and so far, it has been fantastic! I spend one day a week at college where I learn all the accounting concepts and processes needed for the rest of my week which I spend within the finance team at LSP. I have learnt so much already from all of the incredibly skilled and experienced people across the central team."
Apprenticeships are not just for those leaving education; existing staff are welcome to explore the possibility of an apprenticeship that would enhance their knowledge and benefit their role. They are free of charge to the employee with the trust covering the cost of the qualification. Apprenticeships are offered at a variety of qualification levels and take on average 18 months, dependant on the course objectives and progress made.
There are many apprenticeship subjects relevant to the Education Sector:
Teacher
Schools Business Professionals
Sports Development
Catering and professional Chefs
Children and Young people's workforce
Customer Service and Administration
Facilities Management
Financial Services
IT Applications
The Lighthouse Schools Partnership also collaborates with colleges in the local area to offer Apprenticeship employment opportunities within the Trust. All apprenticeship opportunities are advertised on the Apprenticeship website.