Gordano gets a Makeover from BBC1 Interior Design Masters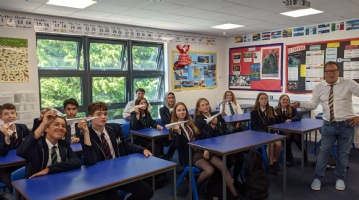 Gordano School will feature on BBC1 Interior Design Masters on Wednesday 23rd March, hosted by Alan Carr. In the exciting episode, designers are tasked with redesigning four common rooms to reflect each house's unique animal mascot and colour.
Gordano Deputy Headteacher, Daniel McGilloway, said: "It was an exciting and incredible week that created a real buzz across the school. At the end of the week, students were asked to go along and give their opinions on the final designs. They also got to work with Alan Carr, which was a real treat.
Well done to all the students involved and to all of those who were not directly involved but who showed the best of themselves and the school. You have made us very proud!"
The programme takes ten aspiring designers on the cusp of turning professional and launches them into the world of commercial interior design.
The episode goes out on Wednesday 23rd March. Make sure to catch it on BBC1 at 9pm.